Menu
Prices
As a responsible breeder our first goal is to provide healthy well socialized pups. We focus on temperament and health first and foremost.
To do this we have invested a great deal of time and money into our breeding program using only the healthiest dogs for our lines.
From housing, to DNA testing, to replacing and retiring adult dogs after only a few litters and occasionally adding new blood to our lines and of course top veterinary care and superior diet.
Our staff consists of several dog loving adults and students that maintain a clean living environment and play with and walk the dogs daily.
All of this is reflected in the prices of our well bred puppies.
We do realize that this is a significant investment for most families so it is important to ensure you are starting with the healthiest of pups. You will pay less initially buying a puppy from an Amish puppy mill or from a neighbours friend who had a litter but none of these dogs have been health tested and will more likely cost you a lot more in the long run.
Our prices are subject to change without notice. However if you have deposited on a litter list already your price will be honoured.
If for some reason you chose to transfer your deposit from one list to another the price may change.
Prices
Labradoodles
F1
Solid black $1000
Abstract. $1250
Brown or cream $1500
Merle $2000
F1b
Solid black $1250
Abstract $1500
Solid brown or cream $1750
Merle $2250

Add $500 for patterns such as parti, phantom, brindle
F1bb and F2bb
Solid black $1500
Abstracts $1750
Solid brown or Cream $2000
Merle $2500

Add $500 for patterns such as parti, phantom and brindle
POODLES reg'd
standard or moyen size
Solid black $1500
Abstract $1750
Brown, apricot, cream, red $2000

Add $500 for patterns such as merle, parti, brindle and phantom
TLC food and biscuits
Https://www.tlcpetfood.com/nutrition/ltmkennels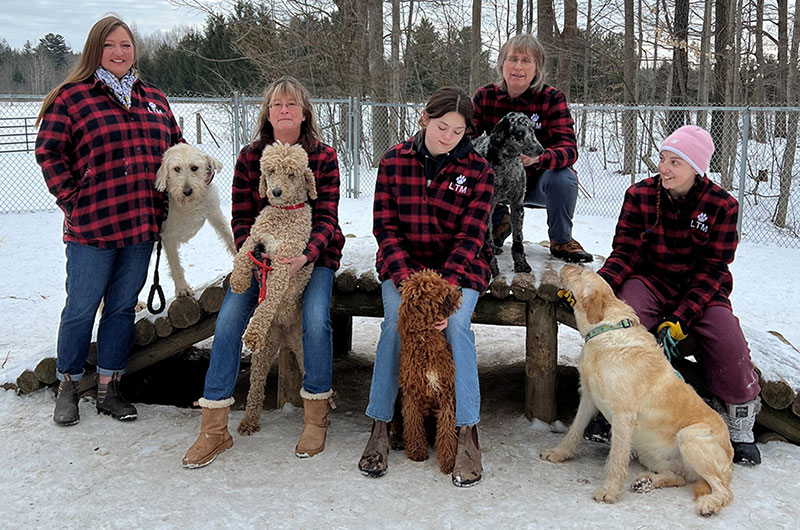 THE TEAM